Allen Organ Company featured in
Custom Woodworking Business Magazine
Allen Organ Company was recently featured in an article entitled "Sweet Sounds of Success" in the January issue of Custom Woodworking Business magazine. The two page article has Production Manager, Dan Hummel, describing some of Allen's vertical integration processes within the facility:

"Allen is also the most vertically integrated organ manufacturer in the world. Besides building our own wood cabinetry, the company assembles high-tech circuit boards with the latest surface mount technology. This high level of vertical integration enables the company the utmost control of quality and the flexibility to make changes relatively quickly, as demanded by our customers."
For those interested in woodworking machinery, the article also describes some of the top name equipment used within Allen Organs in the making of organ consoles. To view the digital copy of this article, click this link and select the January edition, then select pages 16 and 17!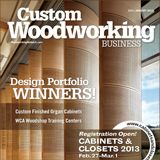 The New Allen Vista (Navigator)

When your organist isn't available, VISTA can play your organ!Easy to Operate

Large Color Touch Screen with on-screen controls
Remote Control for recorded music playback
USB Memory Drive
Dual Mode Digital Recorder (Sequencer)

Vista opens new performance horizons, whether you want to create orchestra sounds, play piano and organ duets from the same console, or access perfect sounds to lead contemporary worship.