The start of Allen Organs
In 1939, Allen Organ Company began the manufacturing of electronic organs. Founder, Jerome Markowitz, had worked for years to perfect the duplication of pipe organ sound, first through the use of radio tubes. From this creative and innovative beginning, Allen Organ Company has grown to be the largest builder of church and theatre organs in the world.
Every Allen Organ is built in Macungie, Pennsylvania, USA in the heart of "Pennsylvania Dutch Country." Utilizing the world's largest organ factory, Allen builds components that other organ manufacturers buy from third parties. This unique in-house manufacturing makes it possible for Allen to offer incomparable quality at competitive prices and also ensures the long-term availability of service parts.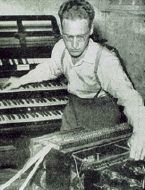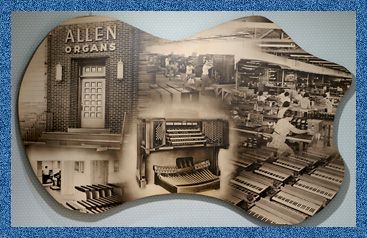 Commitment to the Environment
Allen Organ Company became "green" long before it became fashionable. In the early 1950's the Company was committed to creating a comfortable work environment for employees and maintaining the humidity control required for making quality wood consoles. To meet these goals, Allen installed a unique energy efficient system that is still in use today. Spring water is piped throughout the factory and then returned to a creek where Trout fishing is the local sport.
More recently, Allen's Finishing Room added a state-of-the-art spraying system. Through advanced technology this system produces finishes of the highest quality with substantially reduced VOC's.
Allen's Electronic Assembly "clean room" also utilizes the latest environmentally friendly processes. Allen became RoHS compliant in 2006. Often referred to as "lead-free", these regulations eliminate certain hazardous materials from products that could negatively impact the environment. To meet these RoHS regulations, Allen added substantial equipment including new surface mount and wave solder machinery.
Allen Organ Company has also implemented other environmentally-friendly processes including increased use of recyclable materials and decreased energy consumption in its manufacturing facilities. Allen's commitment to the environment matches its deep commitment to customers.
Allen Organ Jerome Markowitz Memorial Museum
Allen Organ Company was founded in 1937 and named after its birthplace, Allentown, Pennsylvania. The Company was incorporated in 1945, after interruption by World War II. Since its beginning, Allen has been managed by the same family. Steve Markowitz, the Company's current President, is the son of the Company's founder, Jerome Markowitz.
The Jerome Markowitz Memorial Center is a museum chronicling Allen's history by displaying technological milestones in the development of the pipeless organ. The museum is open by appointment Monday through Friday, from 9:00 a.m. to 4:00 p.m. To schedule a visit, please contact the Allen International Sales Headquarters by email. In the meantime, enjoy a virtual tour of the museum by going to the Allen Organ Museum Page and find the tours at the bottom of the "Jerome Markowitz Memorial Museum" page.
Quality, craftsmanship, technological superiority... these are Allen hallmarks. With more than 80,000 installations worldwide, Allen carries the banner of innovation into the 21st century.